Oktober 15, 2021
StudySmarter doubles its Series A investment to accelerate international growth
StudySmarter brings on board a leading consumer tech venture capital fund, Goodwater Capital, via a $16m Series A extension

In its first year, StudySmarter added 1 million new users. It has nearly doubled this user base over the past four months and rolled out the platform globally to more regions including US, UK, South Africa, Singapore, Indonesia, Canada, Ireland, and more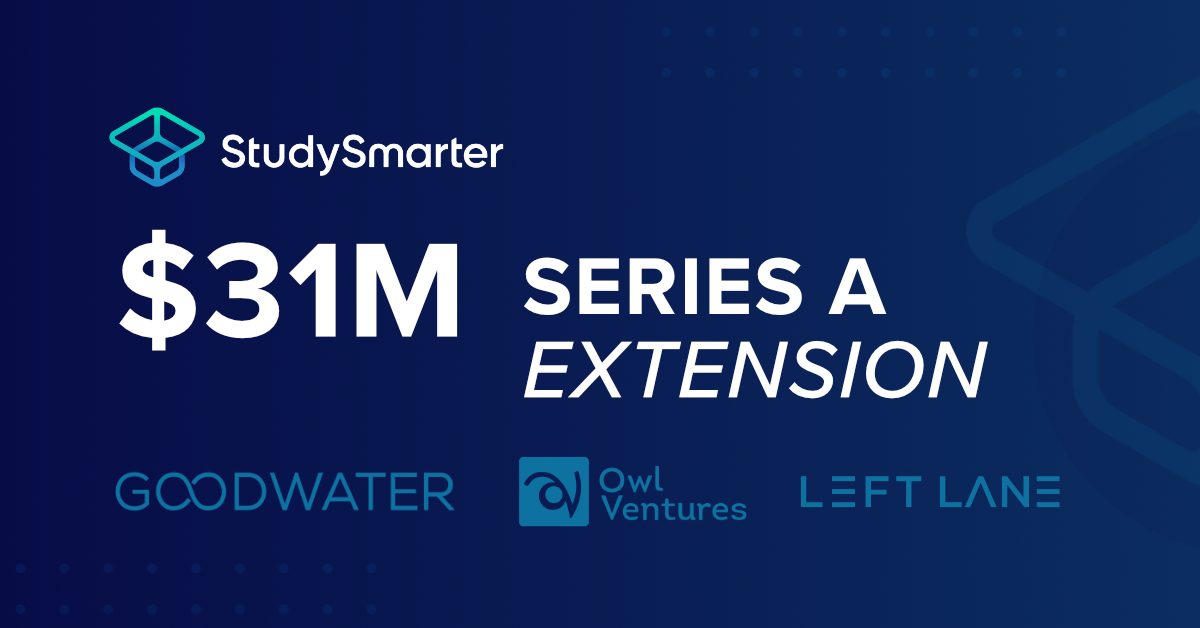 Four months after closing a $15 million Series A in May, StudySmarter  – the award-winning educational platform that is among the most downloaded and used educational apps in more than 20 regions worldwide –  has more than doubled this investment with a $16 million extension from Goodwater Capital, following record growth over the summer. Since the close of the initial Series A, StudySmarter's team has more than tripled, growing from 70 to over 300 employees.
StudySmarter is a content-agnostic, lifelong learning platform that turns any kind of text or content into an interactive course, generated in part through the use of natural language processing (NLP). Learners of all ages use StudySmarter to create their own content, such as lecture notes, summaries, flashcards, exercises, and so on, anywhere in the world. Instead of having to download multiple apps for different parts of the learning journey, StudySmarter offers it all in one place and its data shows that 94% of learners who use the platform achieve better grades as a result. Since launch, users have created and shared more than 50 million learning materials, which is growing by 5 million every month. 
To further build on this growth, StudySmarter has additionally expanded into its own content creation for the first time, via its new StudySmarter Originals feature. Using the unprecedented amount of data about exams and curriculums it has access to, worldwide, StudySmarter has generated high-quality content in collaboration with more than 100 teachers and handpicked educators. StudySmarter Originals have been created to be just as digitally engaging and shareable as its user-generated content and further bolsters the firm's catalog of high-quality learning resources.
StudySmarter has a commercial partnership with Pearson, as well as deals with global giants such as Amazon and BMW who are using StudySmarter to reach potential employees and graduates via non-intrusive adverts. New partnerships are set to be announced in the coming months.  The extension will be used to double down on StudySmarter's global expansion, and its ambitions to become the world's best, and largest content-agnostic learning platform. 
"In just two years, StudySmarter has proven it has the power to enable access to digital education for hundreds of millions of learners across the globe," said Maurice Khudhir, Co-Founder of StudySmarter. "The way the platform has been embraced and used by our community is a testament to just how important and necessary our content-agnostic, lifelong learning approach is. It also shows that the issues experienced with learning and access are universal." 
Eric Kim, Goodwater Capital: "It takes a special kind of company, with a special kind of team, to develop and expand as quickly, and as successfully, as StudySmarter has.  We knew from the moment we first heard about StudySmarter that it was on course to change education and global learning as we know it and we're thrilled to now join Christian, Simon, Till, and Maurice in this journey." 
Goodwater Capital brings a vibrant network and data-led approach to growth alongside the expertise from earlier investors, including the largest global EdTech-focused VC fund, Owl Ventures, and B2C focused, New York-based investor Left Lane Capital and DvH Ventures.
---
About StudySmarter
StudySmarter is a leading EdTech start-up from Munich and develops an intelligent and content-agnostic platform for lifelong learning. The StudySmarter learning platform was first published in 2018 and is currently used by more than three million learners. The startup is headquartered in Munich and employs more than 370 people. StudySmarter's vision is to leverage state-of-the-art technology to empower everyone to achieve their educational goals. Learn more at www.studysmarter.de/en 
About Goodwater Capital
Goodwater Capital helps entrepreneurs build companies that transform lives around the world. Goodwater Capital focuses on consumer tech and has more than 30 years of experience investing in leading consumer technology companies across stages and geographies. The Silicon Valley-based VC has a track record of more than 56 investments, more than USD 4 billion in total assets, and a team of 36 professionals. Learn more at www.goodwatercap.com
About Owl Ventures
Owl Ventures is the largest venture capital fund in the world focused on the education technology market with over $1.3 billion in assets under management. The Silicon Valley-based firm invests in the world's leading education technology companies across the education spectrum encompassing PreK-12, higher education, and future of work (career mobility/professional learning). Owl Ventures has deep domain expertise and leverages a global network of Limited Partners, investors, and strategic partners to help entrepreneurs scale their businesses into transformative category-leading companies. Learn more at www.owlvc.com
About Left Lane Capital
Left Lane is a New York-based leading global growth equity firm investing in high-growth internet and consumer technology companies. Left Lane's mission is to partner with extraordinary entrepreneurs creating category-defining businesses that are fundamental to the human condition and spirit. Previous investments include: GoStudent, Masterworks, M1 Finance, Tovala, FightCamp, Wayflyer, Tapcart, and more. Learn more at www.leftlanecap.com
Back to Newsroom