Mai 05, 2021
StudySmarter raises $15M Series A
StudySmarter raises $15M Series A to empower learners around the world with its intelligent lifelong educational and learning platform
StudySmarter has raised US$15 million in Series A funding to bring its award-winning educational app and learning platform globally. The round – which is the first step in StudySmarter's plans to become the world's central hub for learning – was led by the largest global edtech-focused VC fund, Owl Ventures, with the notable B2C focused, New York-based, co-investor Left Lane Capital. Other investors include Lars Fjelsoe-Nielsen (formerly WhatsApp, Uber and Dropbox) and existing investor Dieter von Holtzbrinck Ventures (DvH Ventures)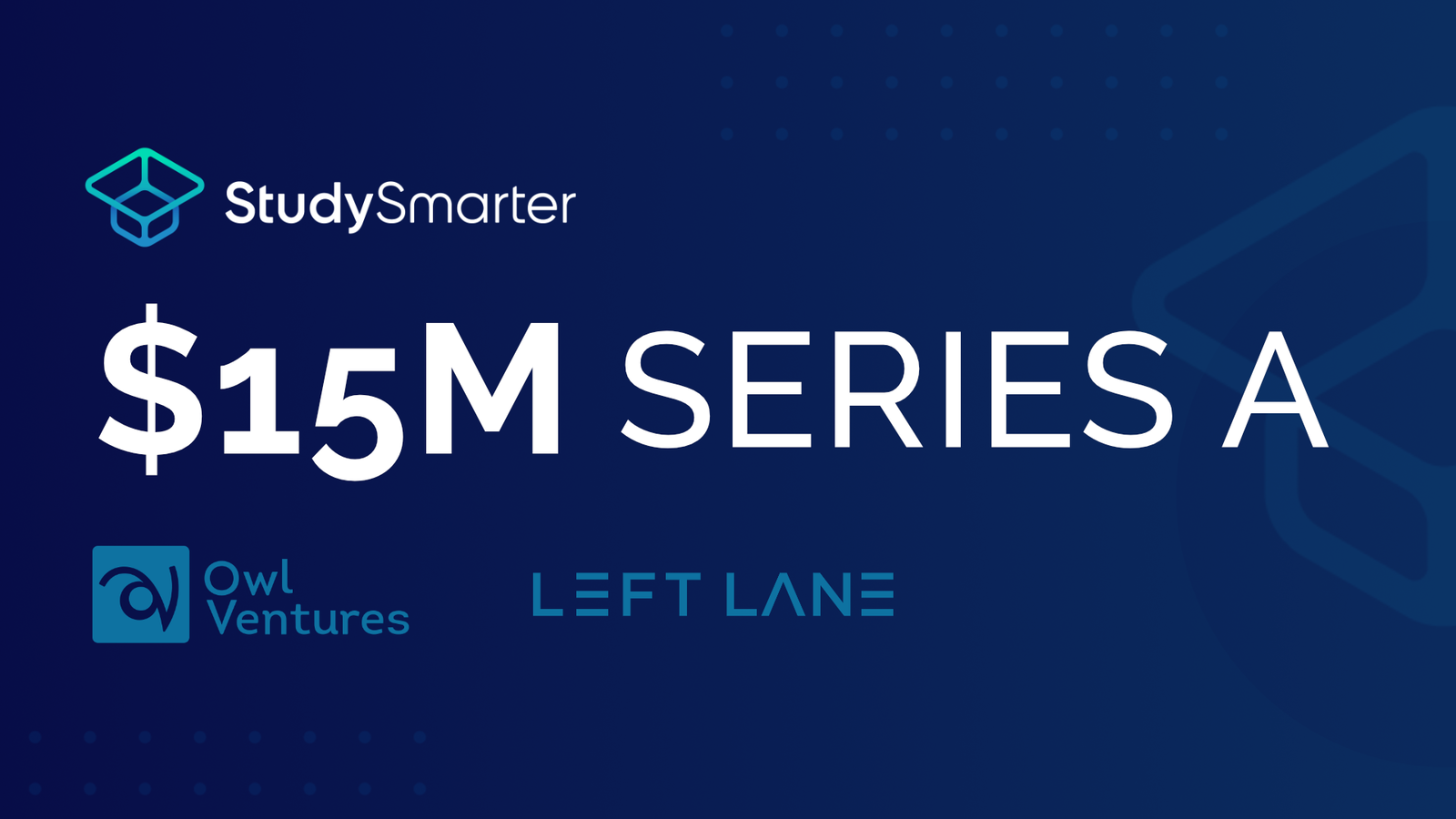 StudySmarter is a lifelong learning platform that turns any kind of text or content into an interactive course, generated in part through the use of natural language processing (NLP). Learners, professionals and content publishers – regardless of age or topic – use StudySmarter to create their own content, such as lecture notes, summaries, flashcards, exercises and so on, anywhere in the world. StudySmarter's bespoke algorithms automatically create interactive courses for these users to follow and enjoy even greater customization.
These algorithms learn how users interact with the platform, including which topics they may be struggling with and their unique learning styles, to build highly tailored courses. Instead of having to download multiple apps for different parts of your course, StudySmarter offers it all in one place. StudySmarter data shows that 94% of learners who use the platform achieve better grades as a result.
"More than one in three students drop out because of challenges they face in their learning process,"  said Maurice Khudhir, Co-Founder of StudySmarter. "That's why we founded StudySmarter as an intelligent platform that supports learners individually throughout their entire learning journey. Our platform has the power to enable access to digital education and ensure successful outcomes for hundreds of millions of learners across the globe. With Owl and Left Lane, we have found the perfect partners who share our vision to become the world's central hub for learning."
In the span of one year, StudySmarter has gained more than 1 million new users, becoming the fastest growing learning platform for pupils and students in the Germany, Austria, and Switzerland (DACH) region. StudySmarter is the digital content provider of many renowned publishers such as Pearson, and is used by global giants, such as Amazon and BMW, to reach potential employees and graduates via non-intrusive adverts.
The capital will accelerate StudySmarter's ambition to become the global platform for lifelong learning via further investments in technology, talent, and the global roll-out of the platform. With Owl Ventures and Left Lane, StudySmarter has strategic partners with unique expertise in scaling B2C EdTech startups.
"StudySmarter's award-winning platform revolutionizes the learning journey and provides students the ability to be successful and achieve their learning goals," said Jenny Wang, Principal at Owl Ventures. "Today, more than a quarter of all higher ed and A-level students in Germany are on StudySmarter's platform and we're incredibly excited to partner with this team as they continue to scale and expand into new markets. We cannot wait to see the impact StudySmarter will have on millions of students and lifelong learners around the world."
"StudySmarter is further democratizing access to educational materials with a seamless user experience and rapidly expanding content catalogue. We are impressed with the dedication and grit of the founding team and are thrilled to partner with them to build a global ed-tech player. Working with European founders to build global powerhouses has been a core pillar of our strategy that we look forward to continuing", said Vinny Pujji, Managing Partner at Left Lane Capital.
---
About StudySmarter
StudySmarter is a leading EdTech start-up from Munich and develops an intelligent and content-agnostic platform for lifelong-learning. The StudySmarter learning platform was first published in 2018 and is currently used by more than a million learners. The startup is headquartered in Munich and employs more than 60 people. StudySmarter's vision is to leverage state-of-the-art technology to empower everyone to achieve their educational goals. Learn more at www.studysmarter.de/en
About Owl Ventures
Owl Ventures is the largest venture capital fund in the world focused on the education technology market with over $1.3 billion in assets under management. The Silicon Valley based firm invests in the world's leading education technology companies across the education spectrum encompassing PreK-12, higher education and future of work (career mobility/professional learning). Owl Ventures has deep domain expertise and leverages a global network of Limited Partners, investors, and strategic partners to help entrepreneurs scale their businesses into transformative category leading companies. Learn more at www.owlvc.com
About Left Lane Capital
Left Lane Capital is a New York-based 'breakout' growth equity firm, with deep expertise in edtech and a longstanding track record investing into the European technology ecosystem. The firm invests predominantly in high-growth internet & consumer technology companies that build enduring relationships with customers. Left Lane Capital's mission is to partner with extraordinary entrepreneurs creating category-defining businesses that are fundamental to the human condition and spirit. Learn more at www.leftlanecap.com
Back to Newsroom