Eine der
Management of Natural Resources Systems

Zusammenfassungen auf StudySmarter | Technische Hochschule Köln
THE EARTH AS A SYSTEM
LECTURE 1: the Earth as a system

a SYSTEM is a SET of interacting or interdependent ENTITIES which form a WHOLE that is defined by its elements and processes that coexist within a defined BOUNDARY

CHARACTERISTICS OF SYSTEMS:

Exchange of matter, energy or information
Defined by its elements and processes within a defined boundary
the behavior of elements at micro-level determines characteristics of the system as a whole
"The whole is more than the sum of its parts" (emergence)
TYPES OF SYSTEMS ACCORDING TO THE INTERCHANGE WITH EXTERIOR

Systems can be described as closed and open:

OPEN exchange of matter and energy
CLOSED exchange only energy
Thermodynamics distinguishes also isolated systems (theoretically) that have no interaction beyond the system boundary > there are no examples in nature.

CHARACTERISTICS OF EARTH SYSTEM: (OPEN OR CLOSE)

The Earth System is often described as a CLOSED SYSTEM (energy interchange> solar energy coming >Earh emits heat energy) but also as an OPEN SYSTEM if we consider meteors, cosmic dust (entering), and hydrogen (escaping from the atmosphere- Earth system).




All the subsystems of the Earth system are OPEN because they interchange energy AND MATTER. Example the Biosphere:




WHY SYSTEM VIEW ( in environmental and Landscape planning )

Why is system thinking essential to solve problems in the context of natural resource management?

To Understand the interactions between natural and human environment a holistic geographical view on earth is needed – everything is interlinked (nested systems!); there is not ONE problem but many. > labern -  interconexion
System thinking important to follow the leading concept of development based on the Rio 1992 Conference (Agenda 21): preserving the environment today and in the future while at the same time meeting human needs.
Thinking in Models: explicitly comprehended modelling where everything is interconnected - linked
thinking in Loops:  Think in interrelated, systematic structures, recognizing causal loops (groundwater extraction – increasing draught risk – digging deeper – increasing draught risk)
Thinking in dynamics:  Think in dynamic processes (delays, feedback loops, oscillations); self regulation / homeostasis
Understanding systems allows us to act "systematically", meaning to take adequate actions steering systems: ability for practical system management and system control
Social-Ecological Systems

Ecosystem services link social and ecological systems
HIERARCHY OF SYSTEMS: Nested systems
Systems that enclose other systems and that are simultaneously enclosed by even other systems.
Social and ecological systems are structured in a nested hierarchy. Ecological knowledge resides in the link between each of the dynamic systems (Folkes and Berkes, 1998).
Shape of the Earth:
The bulge is the result of  a more rapid rotational speed at the equator.  way slower in the poles > Centrifugal force pulls Earth´s surface outward (Newton)
Polar circumference 40,008 km , Equatorial 40,075km .
"oblate ellipsoid" (radius 6,371 km, diameter)
COMPONENTS: Subsystems of the Earth:
Atmosphere
thin, gaseous veil surrounding the Earth, held by force of gravity
complex system of gases and suspended particles that behave in many ways like fluids
many of its constituents derived from the Earth by chemical and biochemical reactions
Lithosphere
solid inorganic portion of the Earth (composed of rocks, minerals and elements)
the outer surface and interior of the solid Earth
Hydrosphere
Contains all waters of the Earth, (oceans, glaciers, groundwater, etc.)
Water moves from one store to another by evaporation, condensation, runoff, precipitation, infiltration and groundwater flow (hydrologic cycle**)**
Biosphere
consists of all living organisms.
characterized by life in profusion, diversity, and ingenious complexity.
Cycling of matter involves metabolic reactions in organisms as well as many abiotic chemical reactions
EARTH SYSTEM CONCEPTS AND LANDSCAPE SYSTEM:
The Earth system is all parts of our planet and their interactions
SYSTEM THINKING
the Earth is a DYNAMIC system  (subject to constant change) with different subsystems that interact and are subject to natural dynamics and anthropogenic impacts.
Models help to understand these dynamics between coupled natural and human systems.
TO UNDERSTAND the dynamics of the Earth System (dynamic system)  and estimate future changes, scientists use MODELS. These models require a deep understanding of variables, processes, reactions, etc. Therefore measurements are taken to produce DATA that can feed, adjust and validate these models.
There are many approaches to understand the Earth system, considering coupled - linked - interrelated natural and human systems: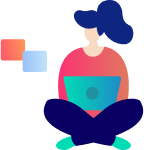 Weitere 'Kompetenz- und Selbstmanagement' Lernmaterialien findest du kostenfrei auf StudySmarter
Melde dich kostenlos an und bekomme Zugang zu der kompletten Zusammenfassung und tausenden Karteikarten!