Eine der
CH. 8 INTRODUCTION TO METABOLISM

Zusammenfassungen auf StudySmarter | Glendale Community College

In an exergonic reaction, energy is released to the surroundings. The bonds being formed are stronger than the bonds being broken. In an endergonic reaction, energy is absorbed from the surroundings.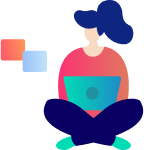 Weitere 'Kompetenz- und Selbstmanagement' Lernmaterialien findest du kostenfrei auf StudySmarter
Melde dich kostenlos an und bekomme Zugang zu der kompletten Zusammenfassung und tausenden Karteikarten!